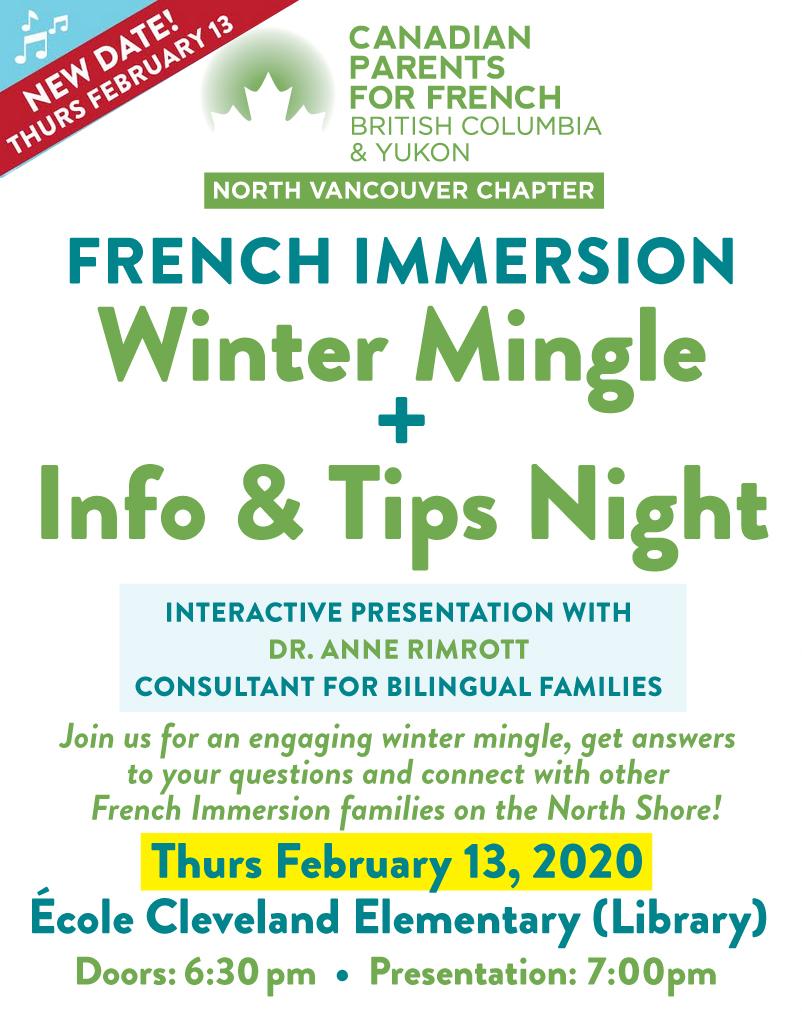 Is your family new to early or late French immersion this school year? Or are you a seasoned French immersion family looking for some new tips and tricks? This evening is for you!
New Date: Thursday, February 13, 2020 –  Interested | Attending
Free event
Snacks provided
Enjoy seeing French in action with a play presented by French Immersion students (6:40 PM)
On-site babysitting available, email cpfnorthvan@gmail.com to reserve
Connect with other French Immersion families in the North Vancouver School District!
7:00 PM: INFO SESSION WITH DR ANNE RIMROTT
During this interactive presentation, Dr. Anne Rimrott, Consultant for Bilingual Families and French immersion parent on the North Shore, will cover topics such as:
How much French will my child actually learn in the program?
What about my child's English?
How can I support my child if I don't speak French?
How do we balance English, French and our home language?
What are some practical tips and tricks for French immersion families?
How can we keep up French during the summer?
ABOUT THE PRESENTER – Anne Rimrott, Ph.D.
As both a language acquisition expert with a Ph.D. in linguistics and a French immersion parent juggling four languages in her own family, Anne is in a unique position to support families in raising children with two or more languages.