The Cleveland Courtyard and Library form the central artery of L'École Cleveland Elementary. 
Together this combined area has so much to offer our kids:  a place where they can be inspired to seek out information and ideas, a place where they can foster their curiosity and a love of learning every day. 
The space is run down and in need of some work.  We believe we can transform it into a magical place by creating an outdoor classroom and installing structures to facilitate learning and playing together. 
We need your help to make this a reality!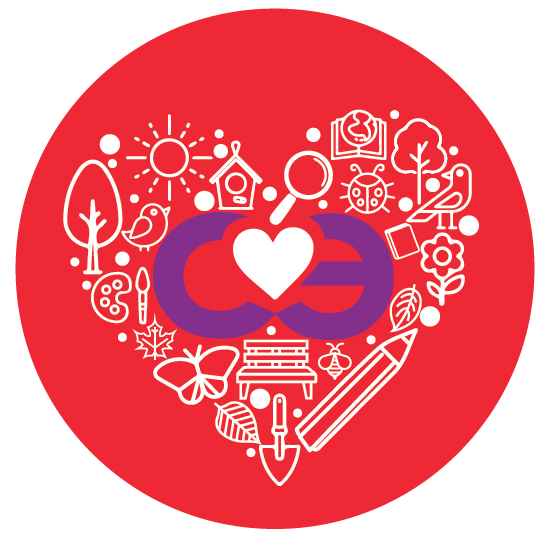 GET INVOLVED AND DONATE
Thanks to the generosity and support of Cleveland Families and the community, L'École Cleveland Elementary is engaging in thinking that can change the world. Find out how you can get involved.
HOW YOU CAN HELP
Donate Now

Families can make a TAX DEDUCTIBLE gift of any amount online through SchoolCashOnline.com.  Please read Instructions for donations.

Leave your legacy

Gifts greater than $150 will be memorialized on the Cleveland Legacy Wall. Distinction will also be made for larger donations. More Details to come.

Volunteer your time

There are many ways to volunteer your time and talent to this project. For more information, please message Jessica Bratty or Kelly Zirnhelt on the FreshSchools app for more information.
INSTRUCTIONS FOR DONATIONS
To donate please go to SchoolCashOnline.com and
Under "Gift Information" choose the amount you wish to donate
Under "Fund Destination" choose Cleveland – PAC (NOT Cleveland)
Click "Add to Cart"
Make your payment as instructed
A tax receipt will be emailed to you once completed.
Please help make this Project a Reality
Donations over $20 are eligible for a tax-deductible receipt.
FUNDRAISING STRATEGY
Our goal is to raise $90,000 to improve the Heart of Cleveland. There are four key ways we plan to pursue this goal.
Cheque Drive – Spring 2019
School Fundraising Events

Heart of Cleveland Super Fundraiser – June 5
Spin/Fitness class by donation (We are looking for someone to help spearhead this event.)
Parent Social – Date TBD (We are looking for someone to help spearhead this event.)
Others to be determined as ideas are brought forward

Grants
These have varying submission deadlines and can take time to prepare for but can be highly rewarding. We are looking for someone to help spearhead this process. Grant writers, administrators, project managers, etc.
Corporate Sponsorships
If your company is interested in making a contribution, please contact Jessica Bratty or Kelly Zirnhelt.
We can also solicit some degree of Corporate Sponsorships under School District Regulations. We are looking for someone to help spearhead this process.
THE HEART OF CLEVELAND
The Cleveland Courtyard and LIbrary form the central artery of L'Ecole Cleveland Elementary. Together these spaces offer students a place where they can be inspired to seek out new information and ideas, and where they can foster their curiosity and a love of learning, every day.
IN NEED OF SOME LOVE
While the Library plan is just underway, the Cleveland PAC has spent the better part of the past two school years planning for the revitalization of the Courtyard. This work has engaged students in the design and undergone a rigorous RFP process. We are thrilled to be able to say we're ready to put this into place!
A POTENTIAL FOR MAGIC
The new Cleveland courtyard promises to be a space for students can learn and investigate, relax and read, or simply play and hang out. This inspiring, natural environment will invite exploration and hands-on learning, and give students a change of pace from the classroom.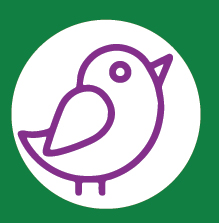 Current plans include:
• Outdoor classroom
• Butterfly garden
• Reading & art patio
• Native plant and flower garden
• Swings & hangout space
• Bird corner with bird feeders and baths.
Studies show that students have increased concentration and more motivation, are increasingly inspired and willing to learn, when they are outdoors. We believe that this courtyard will stimulate curiosity and help students connect more deeply to their natural environment while fostering a love of learning –with a true potential to unleash some magic.
THE STORY OF OUR BELOVED COURTYARD
The seed of the idea germinated, quite literally, in the mid 1950's.  The neighbourhood around the school was being cleared and developed for the first time.  Someone special planted a Dawn Redwood (Metasequoia) seedling, and in 1962 Cleveland School was built around the tree, creating our beloved courtyard.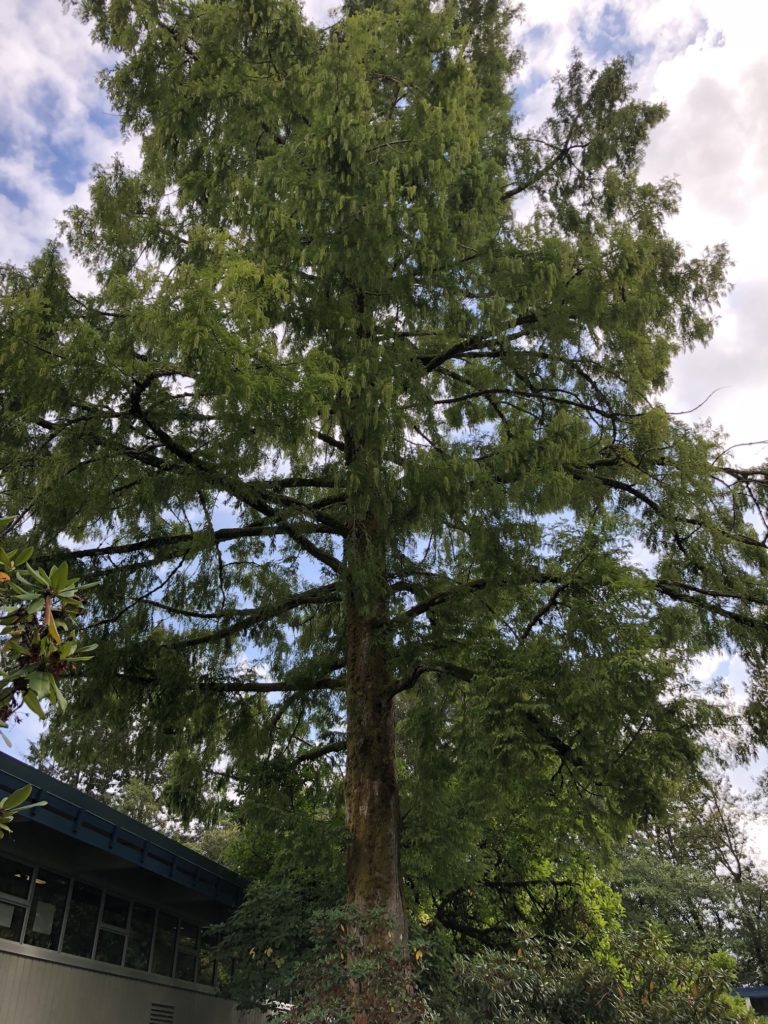 Years passed.  Students and teachers came and went.  The tree grew.  In 1997, Cleveland's then dynamic and creative librarian, Sandra Santarossa, arrived at the school and the courtyard was mostly overgrown.  Sandra, other teachers, students and parents gradually improved the space, cleaning out junk and adding native plants and seating areas.  The connection between the indoor and outdoor learning spaces began.  Forma Design, a North Vancouver based design company owned by a former Cleveland family worked with our students to develop a courtyard design.  In September 2018, our new librarian, Myriam Dumont added her vision to a renewed library AND courtyard learning space.  A vision for Heart of Cleveland was born.

The courtyard supports our school's commitment to alternate learning opportunities and community.  It frequently host classes, meetings and celebrations. The library, courtyard and tree have grown and evolved together, fostering quiet and thoughtful learning, creative pursuits and environmental and social responsibility.
The story of our courtyard is one of transition, growth, connection and learning. We are blessed and grateful for our community of teachers, administrators, parents and students – past, present and future – that make Cleveland so special.
Contact Healthy Cleveland for more information.
CLEVELAND LIBRARY VISION

A school library serves many purposes. We often think of a library as a space where students go to check out books but in reality it is so much more. Practically, a library is a vehicle that a teacher librarian uses to serve its school community, which includes teachers and staff, students and parents. A library is also a portal to knowledge and information and a conduit to explore one's imagination and curiosity.
THE TEACHER LIBRARIAN
The teacher librarian in an elementary school wears many hats. They often collaborate with teachers on a variety of topics as they build out their lesson plans.  They are a resource curator, seeking out books that are new or old, impactful or inspiring for both students and teachers to use in their classrooms. By having a firm handle on the world of books and information available, a librarian is an information literacy teacher.  By developing a thoughtful and broad collection and helping serve as a guide to that collection, a librarian is a reading advocate. A school librarian is also the manager of events including but not limited to author visits, book fairs and reading festivals.  The librarian is also responsible for creating a space that is inviting and conducive to learning and exploration.
A HUB FOR OUR SCHOOL COMMUNITY
The library is already being used as a hub for our school community.  It is the first place families congregate when their kids are entering kindergarten. The Parent Advisory Committee (PAC) holds regular meetings for parents there, staff usually congregate there for professional development activities, meetings and special events. Most importantly, the library is a place where many students spend their free time.
While the parent community has really stepped up this year helping us weed through out-dated and damaged books as well as helping implement a new labeling system to make the library more accessible to students, our library is in need of a big renovation.
A RENOVATION
A renovation could address the furniture, which is quite old and worn and could help enhance both collections of French and English resources. Our library has the potential to be transformed into an incredible space for teachers, staff, parents and kids. Its close proximity to the courtyard makes it perfectly situated for future events as well as every-day magic. The vision for the library is to transform it into a multi-functional area that is both cozy and inviting as well as functional and practical.
This requires a large fundraising effort and commitment from the Cleveland community.  Our goal is to raise $20-$30,000 to enhance our school library and we need your help!
KEY PARTICIPANTS
 Project Leads
Bill Reid (Principal)

Myriam Dumont (Librarian)

Shannon Ramsay/Sara Walker (PAC Co-Chairs)

Jessica Bratty (PAC Project Lead)

Kelly Zirnhelt and Lauren Hilton (PAC Fundraising Leads)
Key Beneficiaries
Cleveland students

Cleveland teaching staff

Cleveland administration
PROJECT TIMELINES

Courtyard design: Complete – June 2018
Vendor selection process: Near complete – Spring 2019
Team & Strategy Development – Spring 2019
Start of Fundraising Campaign – Spring 2019
Site preparation – Summer 2019
Installation – TBD based on funds raised