UPDATE: We are preparing for the Father Daughter Dance on Friday, May 11th, and we urgently need your help!
We need someone to volunteer to be the Lead Volunteer to coordinate the activities for the volunteers. Monica Soares and Stacey Powers are the organizers for the dance and would provide the tasks that will need to be done.
We also  need volunteers who can help with decorating and set-up for the dance on Friday May 11th. We need as many helping hands as possible. Please contact Anne Cunningham  at anne.cunningham112@gmail.com
Thanks in advance for helping make this event a success! 
Father Daughter Dance is FRIDAY, MAY 11, 2018 at 6 PM!
It's that time of year again for the long awaited and highly anticipated Father Daughter Dance. This year's theme is CIRCUS EXTRAVAGANZA!
We have listened to our students' requests and this year will have even better food, better raffle prizes and GAMES!!
Please see the FAQs below for more information.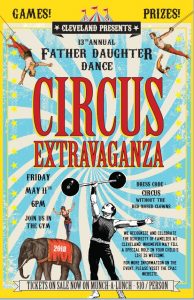 FAQs:
Who can attend the event?
This event has traditionally been for fathers and their daughters attending Cleveland, however, Cleveland recognizes and celebrates the diversity of families. Whoever may fill a special role in your child's life is welcome.
How much are tickets?
Tickets are $10/person. Raffle Prize Tickets (to be used for your chance to win one of several AMAZING prize packages) are $5 for 2 tickets; $10 for 4 tickets or $20 for 10 tickets. Game/Concession Tickets (to be used to play super fun — prize every time — carnival games and to purchase speciality food) are $1 each; $5 for 6 tickets or $10 for 15 tickets. A Keepsake Ticket (to be used to get your special keepsake of this memorable event and the chance to win the GRAND PRIZE) is $5.
Where can I purchase tickets?
All tickets can be purchased on Munch-a-Lunch, including entry tickets, tickets for the Raffle Prizes, the Games and the special Concession Items we will be having this year. Raffle tickets can also be purchased on the night of the event at the Ticket Booth that we will have set up.
How do the Raffle Prize Tickets work?
There will be several amazing prize packages to be won. Each prize package will have a jar in front of it and a card outlining what is in the package and the value of each item. Choose which prize packages you would like a chance to win and put your tickets in that jar. Scatter your tickets between several jars or put them all in your favourite. The choice is yours! See above for "How much are tickets?" and "Where can I purchase tickets?".
I see there are tickets for Concession this year? Does that mean I have to pay for food?
No, absolutely not! There will still be lots and lots of complimentary food like in the past. This year, because the theme is Circus Extravaganza, we will also be offering some speciality carnival-type food for a nominal charge.
Should I dress up?
Absolutely! Think Ring Master, Lion Tamer, Trapeze Artist, Acrobat, Strongman, Human Canonball, Contortionist, Gymnast, Stilt Walker, Musician, Dancer, Hooper, Tightrope Walker, Juggler, Magician, Unicyclist…the possibilities are endless! Vintage clowns would also be great but please NO RED-NOSED CLOWNS as there are students that are afraid of them. Boo La La Costumes (on 152nd East 2nd St., North Vancouver) has generously offered to give all Cleveland families 15% off should you wish to rent a costume for the event. Note: While dressing up is highly recommended to add to the fun factor, it is not a requirement so if you don't want to dress up, that's fine too!
What can I expect?
An incredible night that you and your child will remember for years and years to come! When you first arrive, you will be greeted by our wonderful volunteer parents in the school lobby who will usher you to the photo booth to capture this special moment, assist you with purchasing Raffle Prize and Game/Concession Tickets if you haven't already done so on Munch-a-Lunch, direct you to the Raffle Prize table to place your tickets in your jar of choice to win one of several amazing prizes and help you navigate the incredible game area that we have planned for you this year. After you enjoy the many things that the school lobby has to offer, head into the gym for food, keepsakes and, of course, DANCING!! There will be more prizes than ever on the dance floor this year so make sure to not miss out! Throughout the night, we will announce the winners of the Raffle Prizes and the winner of the GRAND PRIZE (which will not disappoint!). At 8:30pm, we will bring the night to a close with everyone's favourite…the balloon drop!
How do the Games work?
Your Committee for this event is busy at work creating a games area that will be sure to please every guest, young and old. And the best part is, everyone is a winner! You can expect to see a Prize Wheel, Ring Toss, Tin Can Toss, Punch Box, Plinko and so much more!! Some games will be 1 ticket to play and others will be 2 tickets to play. See above for "How much are tickets?" and "Where can I purchase tickets?".
Do we take our own photos at the photo booth?
Of course not! That's our job! We will take a free-of-charge, professional-quality photo of you and your special one(s) and then provide you with a coloured printed copy. As an added bonus this year, we will provide you with a digital copy of your photo if you have provided us with your email address. After everyone has gone through the photo booth, feel free to come back and snap some photos yourself.
Can I volunteer?
Yes! We need volunteers to help make the night of the dance a success. If you can spare a few hours on Thursday, May 10 or Friday, May 11, please contact Nikki Macarei at nikki.macarei@gmail.com  or Monica Soares at krisandmonica@telus.net